2020: Mottainai Kitchen
In summer 2019, the filming of Mottainai Kitchen took place in Japan.
The film focuses on food waste and sustainable solutions in Japan. The documentary premiered in Tokyo in August 2020 and has since been shown in over 80 cinemas across Japan. Mottainai Kitchen is also screening at international film festivals, most recently in the US and South Korea.
Mottainai Kitchen – Don't waste it, cook it!
Japan 2020, 95 min.
Written/Directed/Presented by: David Groß
Cinematography: Daniel Samer
Co-Host: Nikki Tsukamoto
Producer: Kenji Sekine/United People
Official Trailer Mottainai Kitchen
2015: Wastecooking Festival Film
In addition to the TV show, a Wastecooking documentary film was also made and celebrated its world premiere at the renowned IDFA film festival. Both the film and the TV show have won numerous awards.
Wastecooking – Kochen was andere verschwenden ('Cook What Others Waste')
(AUT 2015, 80 min)
Concept, writer, presenter: David Gross
Director: Georg Misch
Camera: Daniel Samer
Production: Mischief Films
Awards:
Deauville Green Awards 2015 – Doc Silver Award
Cannes TV & Media Award 2015, Silver Dolphin
NaturVision 2016, German Conservation and Sustainability Film Award
Ekotopfilm 2016, Human Activity Success Stories
2012: Holy Waters
AUT 2012, 75 min
Screenplay/director: David Gross
Editing: Bernhard Braunstein
Holy Waters, David Gross's second full-length feature documentary, premiered in 2012 at the Crossing Europe film festival. This film deals with people who worship water and the director's grandmother who abhors it.
David Gross received the Bundes-Startstipendium für Filmkunst grant for Holy Waters.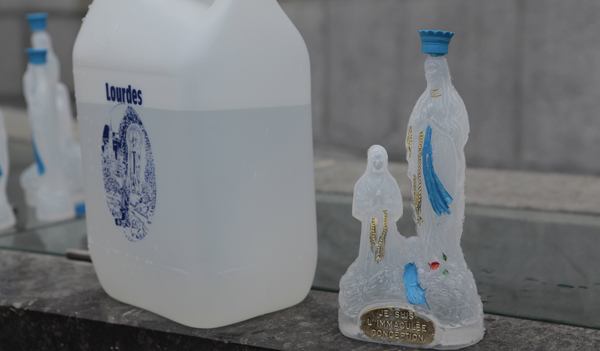 2009 – 2012: Mockumentary Double
Lenz (AUT 2009, 33 min) is a fictional documentary created in cooperation with Bernhard Braunstein and Martin Hasenöhrl. Georg Büchner's legendary novella serves as inspiration for this drama of a young theater student in the mountains.
Verstrickungen (AUT 2012, 18 min) is a mockumentary that revolves around a mysterious family constellation in a remote hotel in the forest. Director: David Gross / Camera: Daniel Samer
Both films premiered as part of Cinema-Next.
2008: Pharao Bipolar
Pharao Bipolar – (A 2008, 60 min)
This documentary portrays actor Werner Ludvig Buchmayer who leads a life between the psychiatry hospital and the stage.
Directors: Bernhard Braunstein & David Gross
Production: Mischief Films
Best Austrian Short Film (Diocese Graz-Seckau Prize) / Diagonale 2008
2006: Reisen im eigenen Zimmer
AUT / 2006, 57 min
Reisen im eigenen Zimmer is the portrait of Salzburg writer Gerhard Amanshauser. Born in 1928, the poet suffered from Parkinson's for 12 years. He himself said that if he were able to write another book, it would be called "Reisen im eigenen Zimmer" ("Travels in My Own Room").
Directors: Bernhard Braunstein & David Gross / Editors: Dieter Pichler / Photos: Werner Schnelle
International premiere: Solothurner Filmtage 2006
Honorable mention: Diagonale06
2003: Stellvertretend in den Tod
Screenplay/camera/director: David Gross
Editing/post-production: Wolfgang Schwarzenbrunner
In 2003 David Gross celebrated his feature-length film debut at Diagonale03 with Stellvertretend in den Tod. This documentary about his own grandfather's Nazi past created heated debate among audiences and critics.
"David Gross impressively broke the mold of traditional documentaries," wrote Der Standard newspaper.